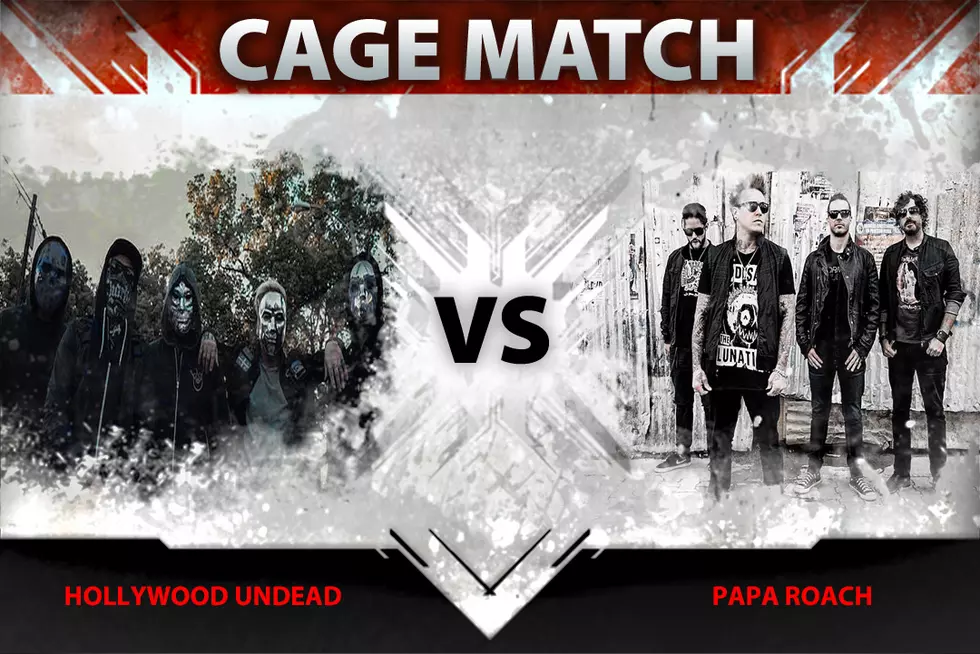 Hollywood Undead vs. Papa Roach – Cage Match
BMG / Eleven Seven Music
It's fitting that as Halloween arrives, Hollywood Undead are ruling the Loudwire Cage Match. The oft-masked band's current single "California Dreaming" bested Otherwise's "Angry Heart' to become the new Cage Match champ. This outsider anthem shows a darker and more aggressive side to the group, but how will it fare against a new opponent?
Speaking of anthemic, Papa Roach have more than a few things to say about where the world stands in their current hit, "American Dreams." Jacoby Shaddix returns to more of a rap style in the verses, but he accentuates the primary theme of the song with a more fist-pumping chorus. The track has shot up the charts in recent months, and should put up a good battle here.
So let's rock out both of these anthems of disillusionment. Listen to Hollywood Undead's "California Dreaming" and Papa Roach's "American Dreams" in the players below, then let us know which song you'd like to see advance by voting in the poll provided.
(This Cage Match will run through Nov. 6 at 2PM ET. Fans can vote once per hour! So come back and vote often to make sure your favorite song wins!)
Hollywood Undead, "California Dreaming"
Papa Roach, "American Dreams"
Rules of Cage Match:
Fans can vote once per hour for their favorite song. If a song remains the reigning champ for five straight Cage Matches, it is retired to the Loudwire Cage Match Hall of Fame. With so many great songs out there, we have to give other bands a chance!