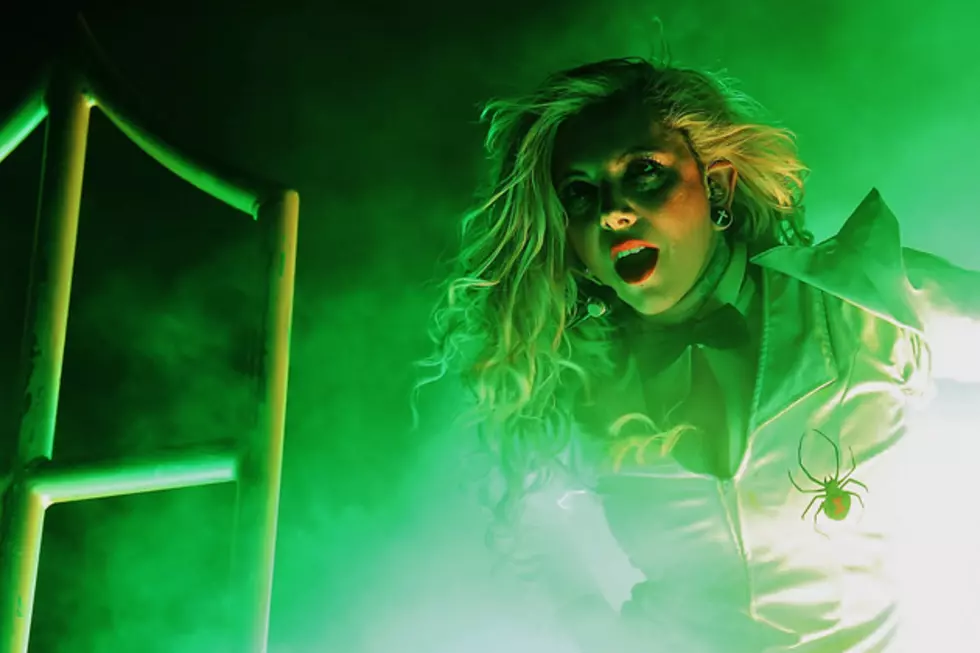 In This Moment Map Out Spring U.S. Tour With Butcher Babies, Upon a Burning Body + More
Liz Ramanand, Loudwire
In This Moment have just announced dates for a U.S. headlining tour this spring in support of their latest album Black Widow. In addition to shows with Butcher Babies, Upon a Burning Body and the Nearly Deads, they'll also be playing numerous festivals (see dates below).
Black Widow is In This Moment's highest charting album to date. Their fifth full-length debuted at No. 8 on the Billboard 200 album tallt last November and spawned the hit single "Sick Like Me."
In an interview with Loudwire, vocalist Maria Brink talked about visually bringing the songs to life on tour: "I think I have fallen completely madly in love with the visual side of the whole thing. I think the visuals have just become so important to me. The music is obviously the heartbeat of it. If you're listening to it in the dark, I want to make people feel different emotions with just the music and just the energy."
Brink continues, "Then being able to take this visual show and apply it to that, I like the show to be just as strong as the music. Even if you were to say, pause the music, and you're just watching our show, you're still kinda feel those emotions that you would feel from listening to us. I love that and I love the next level and I really just want to create a show with the band and everything we're doing."
For ticket information and more details on the tour that kicks off April 17 in Portland, Maine, go here.
In This Moment, Butcher Babies, Upon a Burning Body + The Nearly Deads Tour Dates
4/17/15 -- Portland, Maine -- The State Theatre
4/18/15 -- Montclair, N.J. -- The Wellmont Theatre
4/19/15 -- Rochester, N.Y. -- Water Street Music Hall
4/21/15 -- Worcester, Mass. -- The Palladium
4/22/15 -- Stroudsburg, Pa. -- Sherman Theater
4/23/15 -- Baltimore, Md. -- Rams Head Live
4/25/15 -- Fort Myers, Fla. -- Fort Rock
4/26/15 -- Jacksonville, Fla. -- Welcome To Rockville
4/28/15 -- Knoxville, Tenn. -- The International
4/29/15 -- Chattanooga, Tenn. -- Track 29
5/3/15 -- Concord, N.C. -- Carolina Rebellion
5/5/15 -- Atlanta, Ga. -- Center Stage
5/7/15 -- Pittsburgh, Pa. -- Stage AE
5/8/15 -- Indianapolis, Ind. -- Egyptian Room
5/9/15 -- Somerset, Wis. -- Northern Invasion 2015
5/10/15 -- Madison, Wis. -- WJJO MayDay MayLay
5/12/15 -- Milwaukee, Wis. -- The Rave
5/14/15 -- Huntington, N.Y. -- The Paramount
5/15/15 -- Niagara Falls, N.Y. -- Rapids Theatre
5/16/15 -- Columbus, Ohio -- Rock On The Range
5/22/15 -- Pryor, Okla. -- Rocklahoma
5/23/15 -- Tyler, Texas -- Clicks
5/24/15 -- San Antonio, Texas -- River City RockFest