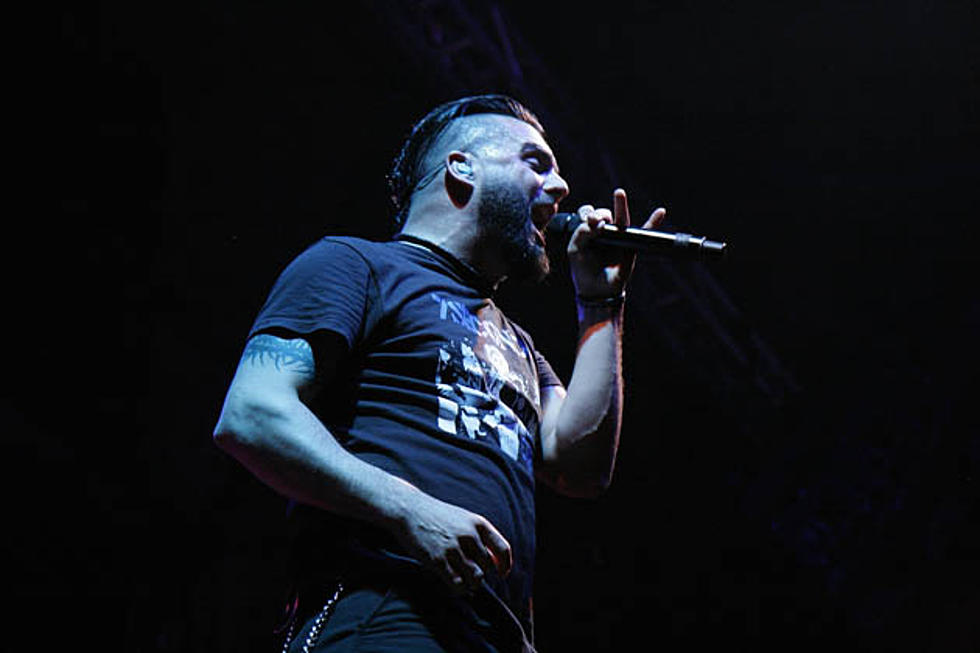 Killswitch Engage's Jesse Leach Talks 'Disarm the Descent' Songs, Intro Music + Personal Goals
Liz Ramanand, Loudwire
Killswitch Engage are still riding high off the success of 2013's 'Disarm the Descent' album. While the band was on tour in New York City, Loudwire had the chance to sit down with vocalist Jesse Leach, who spoke all about some meaningful songs and lyrics off of the band's latest disc. He also chatted about the challenges that go into picking an intro song, as well as what the rest of 2014 has in store for him personally. Check out our interview with Killswitch Engage vocalist Jesse Leach below:
Is there a Killswitch Engage song (old or new) that you've connected with more now that you're playing it live than when you recorded it?
'All We Have' off of 'Disarm the Descent' is a song we started playing. The contrast between the speed of the verses and the quietness of the choruses, just the urgency behind it and what the song is really about struck me more after the fact. I always want to make sure every song on the record is really good but that song took on a whole new meaning for me. I love playing it, it's great. 'You Don't Bleed for Me' is another one that's taken on new life, as well. We've added them to the set -- you try stuff out live and see if it works or if it doesn't work. It's surprising. Another song would be 'Beyond the Flames' --that's a song we've kept in the set.
Something I like about all three of those songs is that they're all so different and they're all written by three different people in the band which is great. Justin [Foley] did 'You Don't Bleed for Me,' 'Beyond the Flames' is by Joel [Stroetzel] and 'All We Have' is Mike [D'Antonio] -- totally different styles and for me personally that's the direction I love to go in, nice and diverse. Those three have definitely embodied a new spirit for us.
So many fans I have talked to want to get tattoos of lyrics from the new disc. Every song on 'Disarm the Descent' is filled with inspirational, uplifting and empowering words. What are some of your favorite lines from album?
A song we don't play live that I've been trying to get the band to play live is the last song on the record -- 'Time Will Not Remain.' When I wrote that, I wrote it in mind that it was going to be the last song on the record. So I wanted it to say a lot of things and close it out -- I think the line off of that, "None of us should be thought of as anything less than a potential to change the world."
That's my opinion about the younger generation, I feel like there's a lot of dumbing down of the younger generation. They look to people who are not role models, this whole society, everything in music, the media, all that -- it's just condescending and sort of stupid. For me it was just an anthem of never knowing what you could do. That's definitely one of the lines of lyrics that strikes me.
I was looking at some of the setlists and I noticed that sometimes for an intro song you guys come out to Survivor's 'Eye of the Tiger' and other times you're introduced by Run-DMC's 'It's Like That.' How do you choose what song to come out to at the beginning of the show?
Lately it's been me, thankfully they've allowed me to do it. Before it was Adam [Dutkiewicz] and he would add all this stuff and make it so silly. If we're going to do goofy, because they won't do serious you can't have a serious intro with this band, there's got to be something funny about it. So it's like 'Eye of the Tiger' is funny and cool, so that was the first one. Then the Run-DMC one is just like, dude it's Run-DMC and it gets the crowd going, it's just fun.
What other intro songs have you pitched to the rest of the band?
ZZ Top's 'Beer Drinkers and Hellraisers' I still think it's a great song to come out to because it's kind of what we do, for the most part -- Adam does anyway. What else? AC/DC's 'It's a Long Way to the Top (If You Wanna Rock 'N' Roll)' -- it's a great one and anything by Thin Lizzy. Van Halen, too, any Van Halen song, who are Adam's heroes, but they shot it down.
What does the rest of 2014 hold in store for you personally?
My personal goals, I've got an Empire Shall Fall EP to finish up. That's plaguing me because I haven't had time and energy to do it. Then I'm pulling out some demos and piecing together a solo effort. I at least want to get some demos done with that with some vocals on them. Those are some personal goals and then go on vacation. [Laughs] Like a real getaway, crazy vacation, I've talked some crazy stuff like Mongolia or going back to Africa which was amazing. I want to do something epic, go on an adventure, maybe climb Mount Kilimanjaro. I don't know, I'm aiming for epic. If I filter that through my wife, it may end up just being a Caribbean trip on a beach. I mean I wouldn't hate that.
Watch the Moving Video for Killswitch Engage's 'Always'