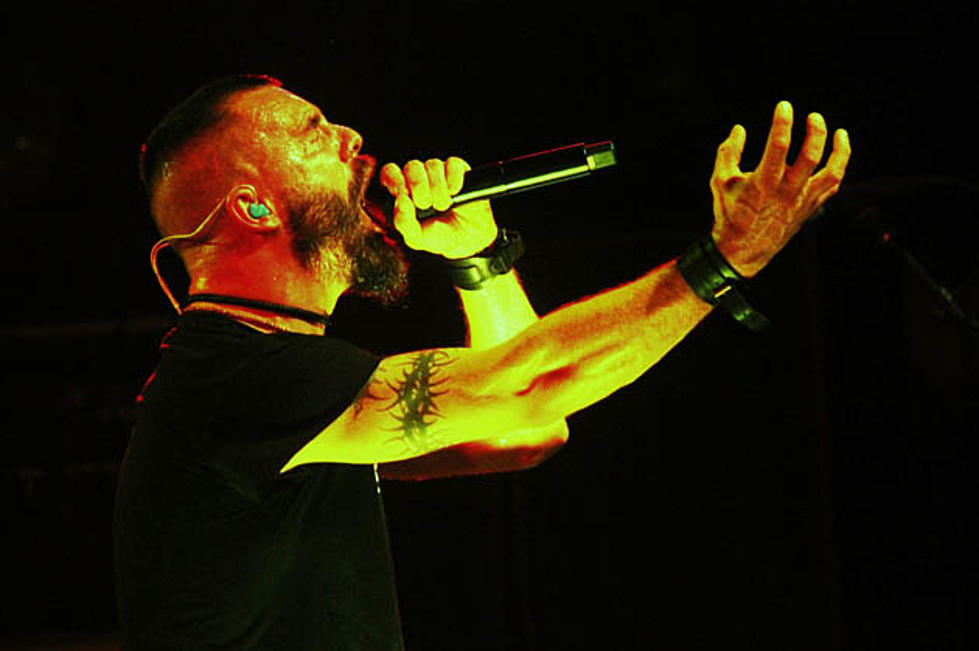 Killswitch Engage Unleash 'Hell' at Sold-Out NYC Show With Miss May I, The Word Alive + More
Liz Ramanand, Loudwire
Killswitch Engage are one of the most entertaining and energetic bands a metal music fan can see today, and they brought the house down earlier this week with a stellar performance at Best Buy Theater -- with support from Miss May I, Darkest Hour, the Word Alive and Affiance.
KsE bring a revitalizing intensity when they hit the stage as they kicked off their set with the powerful new track 'The New Awakening' and went on to perform other songs off of their latest release 'Disarm the Descent' such as 'The Hell in Me,' 'No End In Sight,' 'Beyond the Flames,' 'All We Have' and 'In Due Time.'
Frontman Jesse Leach also spat venom as he belted out older favorites such as 'Fixation on the Darkness,' 'A Bid Farewell,' 'Take This Oath,' 'Life to Lifeless' and 'This Is Absolution.' Anytime you see Leach in action onstage, he puts his blood, sweat and tears into all of the Killswitch songs whether they're off of their debut album that came out over a decade ago to 'Disarm the Descent' and everything in between.
The band as a whole puts their all into the set, whether it's Joel Stroetzel providing riffage or bassist Mike D'Antonio making fans smile with his killer bass lines and one on one interaction with them. Drummer Justin Foley pounded away behind the kit while guitarist Adam Dutkiewicz entertained both his bandmates onstage and the crowd in front of him with his hilarious onstage antics, high kicks and overall relentless liveliness.
Fans sang their hearts out to favorites 'The Arms of Sorrow,' 'Rose of Sharyn,' 'My Curse,' 'The End of Heartache' and the set ending tune 'My Last Serenade.'
Ohio metalers Miss May I gave New Yorkers one hell of a performance and had everyone on the main floor  jumping throughout their unyielding set.
Darkest Hour gave a solid performance but the supporting band the stood out was definitely the Word Alive with their explosive set, which got even more intense as the crowd went wild when the band paid homage to As I Lay Dying, who were supposed to be on this tour, by playing a cover of '94 Hours.'
Opening band Affiance also had an incredible set with lots of vigor and got the blood pumping early on in the evening. To see all of these bands on tour, go here for the remaining dates.
Check Out Killswitch Engage, Miss May I, Darkest Hour, The Word Alive + Affiance in NYC: