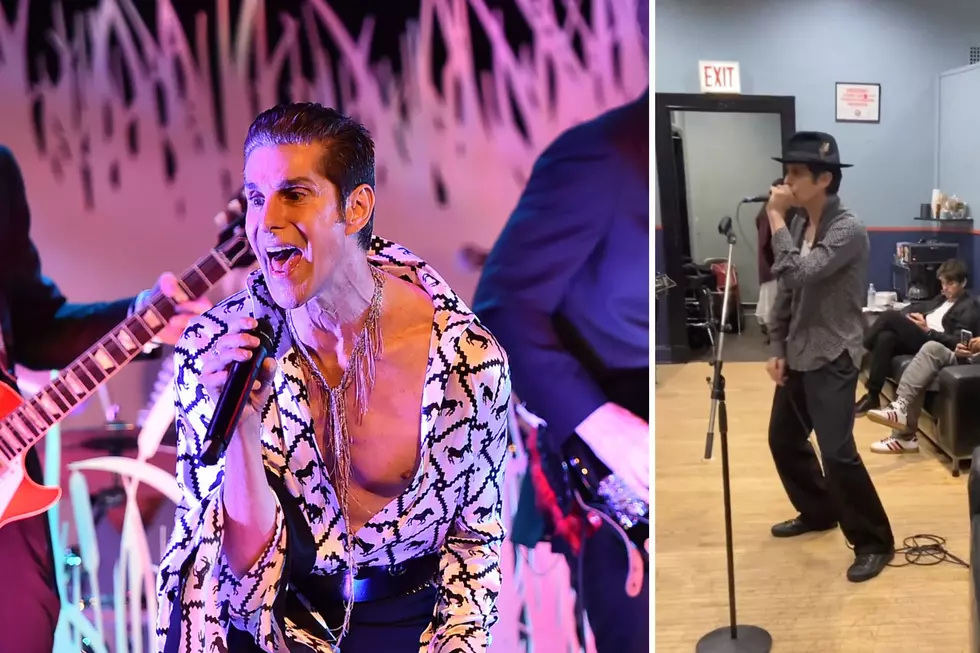 Porno for Pyros Share Intimate Rehearsal Video of 'Bad Sh-t'
Theo Wargo, Getty Images / Instagram: @pornoforpyros
Porno for Pyros, the reunited '90s alt-rock band led by Jane's Addiction singer Perry Farrell, have given an intimate look at a backstage rehearsal from their recent reunion tour.
In a short video they shared last week, Porno for Pyros are seen performing a low-key version of "Bad Shit," a deep cut from their 1993 debut, also called Porno for Pyros. In that decade, they followed it up with 1996's Good God's Urge. But so far, Porno for Pyros haven't released a studio album outside of the '90s. However, it appears that could change soon, according to a 2022 interview with Farrell.
Watch the video down toward the bottom of this page.
"Quick run through before we hit the stage…" Porno for Pyros said of the relaxed rehearsal they posted to Instagram on Feb. 4. Subsequent comments on the clip include several requests from fans for more Porno for Pyros shows, including concerts in Europe.
"I always wanted you guys back at it," one commenter replied. "Even some new songs. But the old songs are def most of my alltime favs. So glad you are back at it."
"Sound(s) amazing! Any chance of a tour?" another fan added. "Perry could sing me the phone book, awesome stuff," one remarked. "Thank you guys for returning," another said.
In 2020, Porno for Pyros got onstage for the first time in 26 years (apart from a brief 2009 gig) to play Lolla2020, the virtual version of Farrell's Lollapalooza festival that replaced the live event that year.
In 2022, Porno for Pyros returned in earnest with several shows that culminated at that year's Lollapalooza.
Will Porno for Pyros' first album in 27 years finally emerge in 2023? Indications are good. Last year, Farrell said he would be working on new Porno for Pyros material in addition to new stuff for Jane's Addiction and his Kind Heaven Orchestra project.
"As soon as we finish this [Porno for Pyros'] Lolla performance, we're going back home and I'm going to be recording through August," the singer explained. "And that will be for Porno for Pyros, for Kind Heaven Orchestra and for Jane's Addiction."
Porno for Pyros Rehearse Backstage (2022)
25 Bands That Got Back Together in 2022
These bands reunited for a short time or got back together for good in 2022.