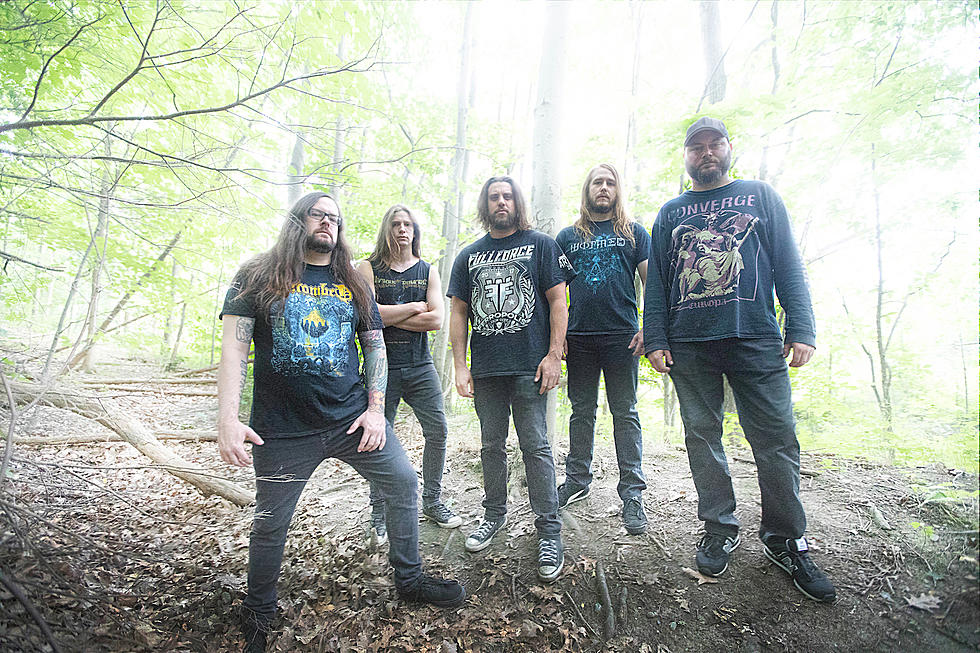 Power Trip, Pig Destroyer + More to Open for The Black Dahlia Murder on U.S. Tour
Karen Jerzyk
The Black Dahlia Murder have just announced a late 2018 headlining U.S. run in support of their latest album, 2017's Nightbringers, and with a total of 10 bands set to appear on the run, its destined to be a hesher's delight.
Both Gost and Skeletal Remains will be joining The Black Dahlia Murder for the duration of the jaunt, with Pig Destroyer, Power Trip, Khemmis, Ghoul, Midnight, Havok and Devourment set to make select performances along the way. The trek, dubbed "The Infinite Bringers of the Night Tour," begins on Nov. 24 and will finish up three weeks later on Dec. 12.
See a full list of dates, along with what support bands will be at each stop, below.
"YES! The time has finally come and we are able to announce one of the coolest tours we have ever been a part of! As you can imagine, I had quite a hand in assembling the line-up here, and I am so proud and thrilled at what we've been able to construct," begins Black Dahlia frontman Trevor Strnad.
"Not only do we in The Black Dahlia Murder get to go rage at Decibel Metal and Beer Fest in L.A. this winter, but we have surrounded ourselves with some INSANE regional line-ups featuring many of my favorite bands in the underground right now, to see us to California and back," he adds, continuing, "Thanks to all parties involved, and be sure to check the fine print to see which of these amazingly sick outfits will be joining us in your town this November and December."
The Black Dahlia Murder 2018 U.S. Tour Dates
Nov. 24 - Dayton, Ohio @ Oddbody's (w/ Gost, Skeletal Remains)
Nov. 26 - Iowa City, Iowa @ Gabe's (w/ Gost, Skeletal Remains)
Nov. 27 - Ft. Collins, Colo. @ Aggie Theater (w/ Khemmis, Gost, Skeletal Remains)
Nov. 29 - Portland, Ore. @ Bossanova Ballroom (w/ Pig Destroyer, Khemmis, Gost, Skeletal Remains)
Nov. 30 - Berkeley, Calif. @ UC Theater (w/ Pig Destroyer, Power Trip ,Khemmis, Ghoul, Gost, Skeletal Remains)
Dec. 01 - Los Angeles, Calif. @ The Wiltern (Decibel Magazine Metal and Beer fest)
Dec. 02 - San Diego, Calif. @ Brick By Brick (w/ Ghoul, Gost, Skeletal Remains)
Dec. 03 - Flagstaff, Ariz. @ Green Room (w/ Power Trip, Ghoul, Gost, Skeletal Remains)
Dec. 05 - Lubbock, Texas @ Jake's (w/ Power Trip, Ghoul, Gost, Skeletal Remains)
Dec. 06 - Corpus Christi, Texas @ House of Rock (w/ Power Trip, Ghoul, Gost, Skeletal Remains)
Dec. 07 - Austin, Texas @ Come and Take It Live (w/ Power Trip, Ghoul, Gost, Skeletal Remains)
Dec. 08 - Ft. Worth, Texas @ Rail Club (w/ Havok, Devourment, Ghoul, Gost, Skeletal Remains)
Dec. 09 - Tulsa, Okla. @ The Vanguard (w/ Havok, Ghoul, Gost, Skeletal Remains)
Dec. 10 - Lincoln, Neb. @ The Royal (w/ Havok, Ghoul, Gost, Skeletal Remains)
Dec. 11 - Joliet, Ill. @ The Forge (w/ Havok, Midnight, Ghoul, Gost, Skeletal Remains)
Dec. 12 - Ft. Wayne, Ind. @ Piere's (w/ Havok, Midnight, Ghoul, Gost, Skeletal Remains)
Best Death Metal Album For Each Year Since 1985