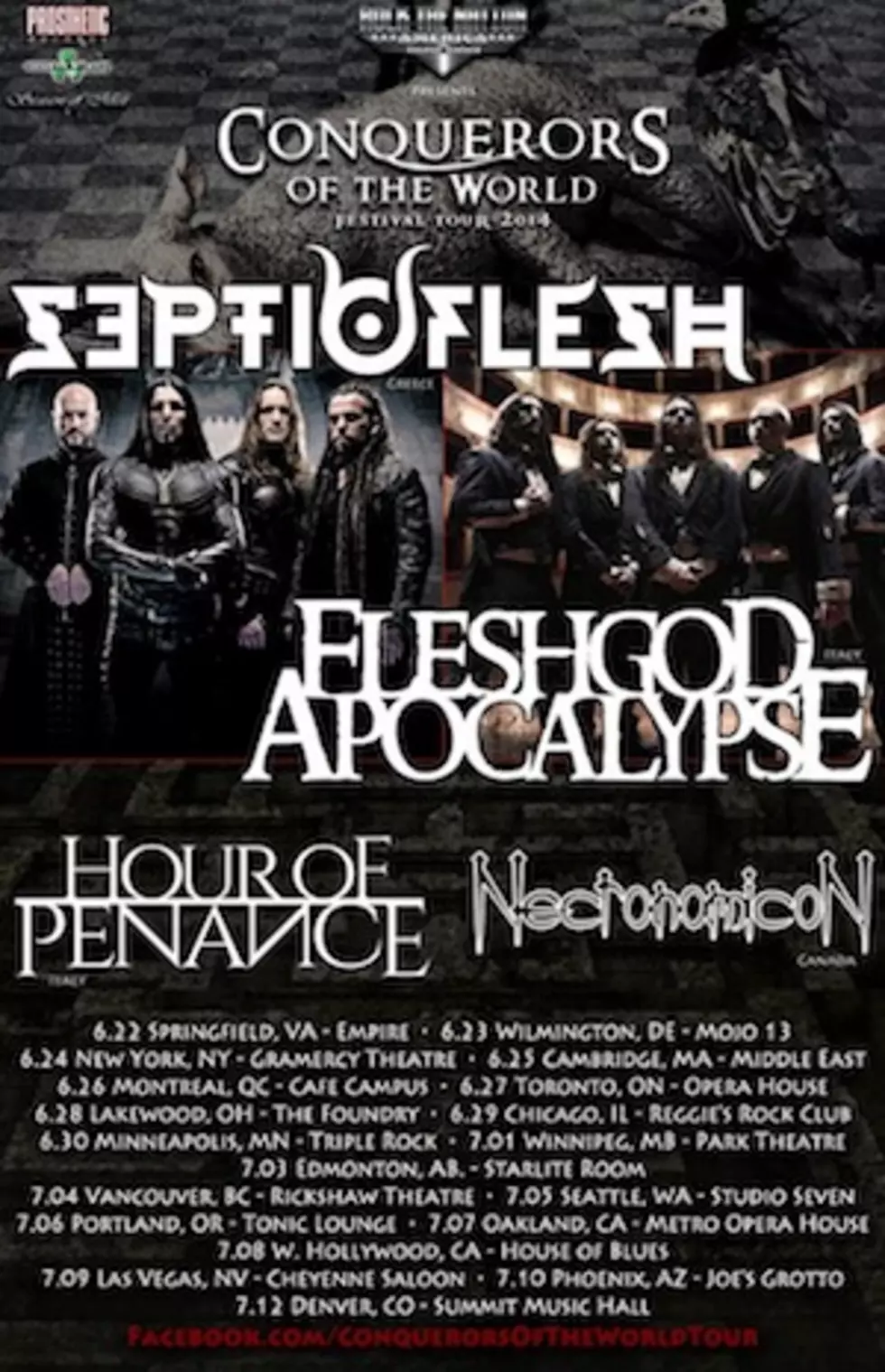 Septicflesh, Fleshgod Apocalypse + More Team Up for 2014 'Conquerors of the World' Tour
2014 Conquerors of the World Tour
Update: Hour of Penance has been forced to drop off the tour. Black Crown Initiate have been recruited to fill the spot.
Get ready for the fleshiest tour of 2014! Greek symphonic death metal masters Septicflesh are returning to North America once again for the 2014 edition of the 'Conquerors of the World' festival tour. Along for the ride are Italian death metal acts Fleshgod Apocalypse and Hour of Penance, with Canadian black metal / death metal band Necronomicon.
It's tough to imagine a heavier tour than this. Each act is brutal in their approach, while both Septicflesh and Fleshgod Apocalypse deliver a heavy symphonic element to their sonic blasphemies. These acts don't get to visit North America all that often, so if you're a fan of extreme music, don't let this tour pass you by.
In other Septicflesh news, the band has released a second single from 'Titan.' Having already unleashed the brilliant 'Order of Dracul,' 'Burn' is yet another home run from the Greek band, who teamed up with the Prague Philharmonic once again to perfect Septicflesh's balance of brutal death metal and beautiful orchestration.
"We are really exhausted from the work on this record, but also very proud of the results," Septicflesh share. "We worked hard with Logan [Mader] to bring you the ultimate death metal soundtrack for your darkest dreams. The compositions are progressive with a lot of emotional peaks, while at the same time the songs sound very aggressive and powerful. We also had the chance to work for the first time with a full children's choir besides the regular adult choir, and that helped us dive deeper into darker cinematic atmospheres. We have achieved a new level of extreme emotions."
Check out the 2014 'Conquerors of the World' tour dates below along with Septicflesh's 'Burn.'
2014 Conquerors of the World Tour Dates:
06/22/14 – Springfield, Va. – Empire
06/23/14 – Wilmington, Del. – Mojo 13
06/24/14 – New York, N.Y. – Gramercy Theatre
06/25/14 – Cambridge, Mass. – Middle East
06/26/14 – Montreal, Quebec – Café Campus
06/27/14 – Toronto, Ontario – Opera House
06/28/14 – Lakewood, Ohio – The Foundry
06/29/14 – Chicago, Ill. – Reggie's
06/30/14 – Minneapolis, Minn. – Triple Rock
07/01/14 – Winnipeg, Manitoba – Park Theatre
07/03/14 – Edmonton, Alberta – Starlite Room
07/04/14 – Vancouver, British Columbia – Rickshaw Theatre
07/05/14 – Seattle, Wash. – Studio Seven
07/06/14 – Portland, Ore. – Tonic Lounge
07/07/14 – Oakland, Calif. – Metro Opera House
07/08/14 – West Hollywood, Calif. – House of Blues
07/09/14 – Las Vegas, Nev. – Cheyenne Saloon
07/10/14 – Phoenix, Ariz. – Joe's Grotto
07/12/14 – Denver, Colo. – Summit Music Hall