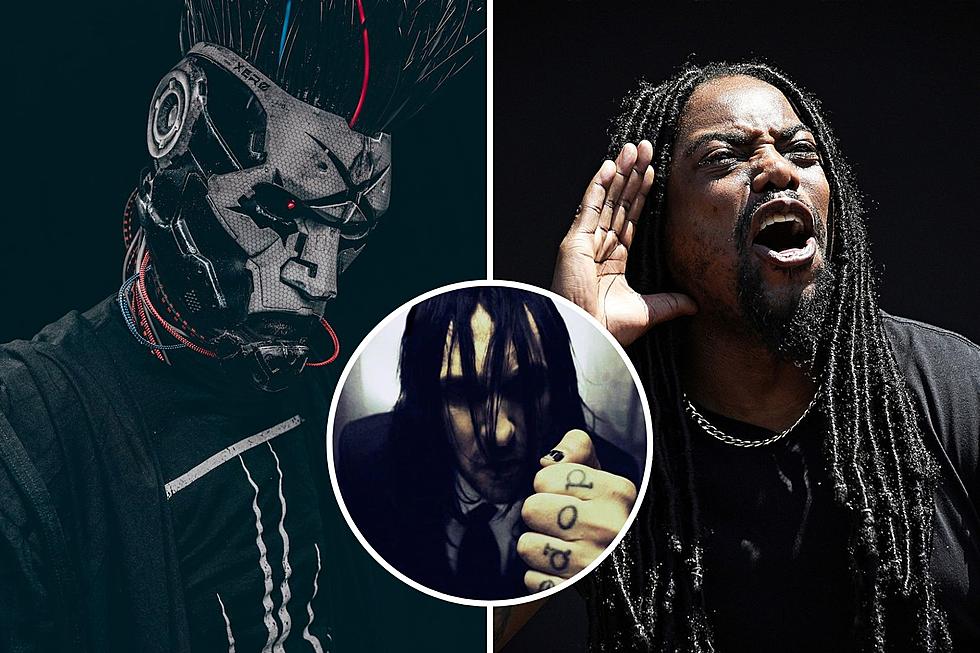 Static-X + Sevendust Announce Co-Headlining Fall U.S. Tour With Dope + Lines of Loyalty
Jeremy Saffer / Chris Condon / Courtesy of Dope
For the first time since 1999, Static-X, Sevendust and Dope will be hitting the road together for a 21-date fall U.S. tour with openers Lines of Loyalty.
Dubbed the "Machine Killer" tour, the run features Static-X and Sevendust as co-headliners, each with a new album to promote. Static-X, who just wrapped up the successful "Rise of the Machine" tour, will release Project: Regeneration Vol. 2, the final album to feature recordings of the late Wayne Static, on Nov. 3.
Sevendust, meanwhile, are set to drop their 14th studio album, Truth Killer, on July 28, featuring new singles "Fence" and "Everything."
As for Dope, they'll be touting this year's Blood Money Part Zer0, their first new album since 2016, and newcomers Lines of Loyalty, who have three singles out, will get a chance to make a name for themselves on the jaunt.
It all starts on Oct. 6 in Houston, Texas and extends just one day past Halloween (including a show on every metal fan's favorite holiday), finishing off on Nov. 1 in Los Angeles.
See the complete list of dates further down the page.
Static-X frontman Xer0, who unveiled a new look on the "Rise of the Machines" tour, comments, "We are excited to bring the fans an even bigger and better show than the last one. We are already building the new production elements and we intend to blow the roofs off of these venues each night."
"We can't wait to hit the road with our friends in Static-X and Dope," adds Sevendust's Lajon Witherspoon, "It has been 24 years since the last time we have shared a stage with those guys. We can't wait to do it again this Fall and to bring together all of our family members together in one place."
READ MORE: Alter Bridge Announce 2023 North American Tour With Sevendust + Mammoth WVH
"We are beyond thrilled to be touring with Sevendust again. They bring one hell of a show each and every night, so this tour is going to be one for the ages," asserts Static-X bassist Tony Campos.
"We're excited to join our friends in Static-X and Dope who we share much history with on tour," says Sevendust guitarist Clint Lowery, "I have no doubt that this will be an extremely entertaining and high production run. The bands and the fans have much to look forward to on this one. Do not miss out!"
Look for tickets to on on sale on June 16 at the Static-X and Sevendust websites, where VIP information will also be available.
Static-X + Sevendust 'Machine Killer' Tour Dates with Dope + Lines of Loyalty
Oct. 06 - Houston, Texas @ 713 Music Hall
Oct. 07 - Dallas, Texas @ The Factory Deep Ellum
Oct. 08 - Little Rock Ark. @ The Hall
Oct. 10 - Atlanta, Ga. @ The Tabernacle
Oct. 11 -  Murfreesboro, Tenn. @ Outside at Hop Springs
Oct. 13 - Greensboro, N.C. @ Piedmont Hall
Oct. 14 - Silver Spring, Md. @ The Fillmore
Oct. 15 - Lancaster, Pa. @ Freedom Hall
Oct. 17 -  Detroit, Mich. @ The Fillmore
Oct. 18 – Ft. Wayne, Ind. @ The Clyde
Oct. 19 - Gary, Ind. @ The Hard Rock
Oct. 20 - Clive, Iowa @ Horizon Event Center
Oct. 22 - Chesterfield, Mo. @ The Factory
Oct. 23 - Kansas City, Mo. @ The Midland Theatre
Oct. 24 - Tulsa, Okla. @ The Tulsa Theatre
Oct. 26 - Denver, Colo. @ The Fillmore Auditorium
Oct. 27 - Albuquerque, N.M. @ REVEL
Oct. 28 - El Paso, Texas @ Speaking Rock
Oct. 30 - Tempe, Ariz. @ The Marquee
Oct. 31 - Anaheim, Calif. @ House of Blues
Nov. 01 - Los Angeles, Calif. @ The Wiltern
29 Most Prolific Rock + Metal Artists of the 21st Century (10 or More Albums)