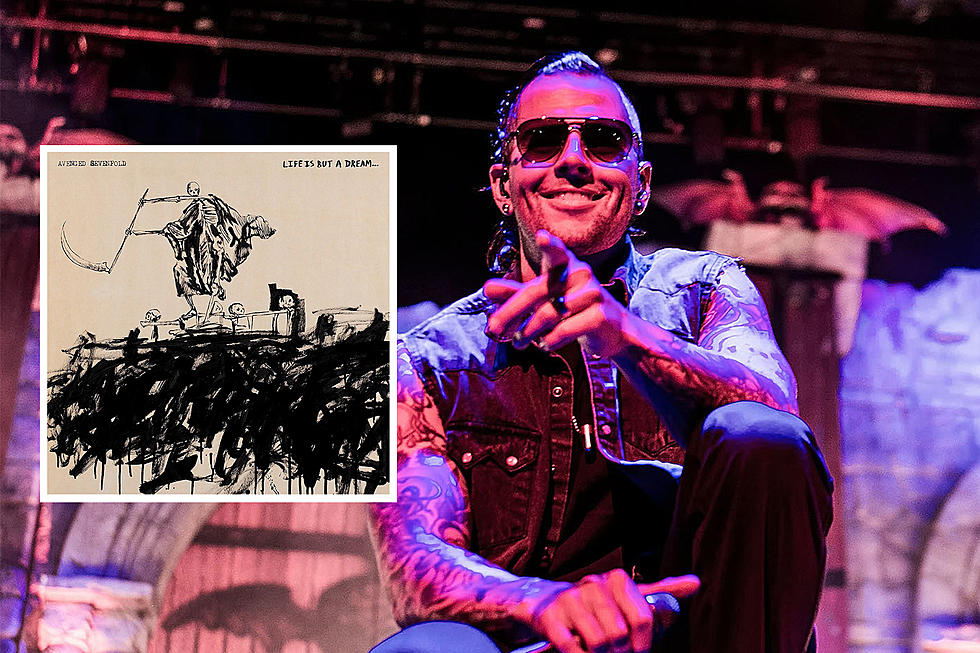 What Fans Are Saying About Avenged Sevenfold's New Album 'Life Is But a Dream'
Suzi Pratt/FilmMagic, Getty Images / Warner Records
After a long wait, Avenged Sevenfold's new album Life Is But a Dream is available today (June 2). It's their first full-length record since 2016's The Stage. 
Ever since the band announced the album earlier this year, they've encouraged fans to listen to it in its entirety upon release. Its overarching themes of existentialism and absurdism were inspired by M. Shadows and Synyster Gates' experiences with psychedelics over the last few years, particularly 5-MeO-DMT — which is derived from the venom of a species of toad — and Albert Camus' 1942 novella The Stranger.
The experimental "Nobody" was the first bit of the new album fans got to hear in mid-March, followed by the manic "We Love You" about two months later. Now that the full set of songs is out, fans have shared a mix of reactions online.
"The new Avenged Sevenfold album is a masterpiece," one listener wrote on Twitter. "I've never heard anything that made me feel the wave of emotions I experienced while listening to it for the first time. Every member of the band is at their best, and you can feel how much passion and love they all put into this."
"Avenged Sevenfold going full spiritual/psychedelic is so fucking sick. Definitely one of the best phases a band can go through. I love not only that these dudes grow with me in the crazy long time between albums but also how eerily similar the growth is," wrote another Twitter user.
However, others on the opposite end of the spectrum are calling it the band's worst album to date, with some calling the ballad-like "Cosmic" the only noteworthy track.
"Such a difficult listen, I liked The Stage, but maybe they should have left this music at the Ayahuasca retreat they attended. So disappointing considering it's been a 7 year wait for new music……," one person criticized.
See the tweets below.
READ MORE: 5 Things We Love About Avenged Sevenfold's New Album, 'Life Is But a Dream'
Fans on the Avenged Sevenfold Reddit page have gotten a bit deeper in their reactions, with one calling the album's second track "Mattel" a "vile" song that's "hard as fuck" and "could incinerate children if they get too close. I don't know who let them release this shit, but they need to be arrested. A7x going unchecked is literally assault."
Another post titled "This album is absolutely incredible..." reads, "The lyrics, instrumentation, experimentation, etc. are all so beautifully put together on this album. I love that they are pulling from so many influences like Daft Punk, Mr. Bungle, King Gizz, and even classical music in the string / piano / horn arrangements. The guys put out something totally fresh, unexpected, and nothing like I've heard before so kudos to them on this one! I think they knocked it out of the park."
Someone else declared, "This is what is must've been like to hear 'Bohemian Rhapsody' on the radio for the first time."
Avenged Sevenfold have played a handful of shows in 2023 so far, but their next scheduled performance will take place June 9 at the Kia Forum in Los Angeles. In mid-July, they'll head out on a headlining tour of North America. See all of the dates and get tickets here.
The 32 Songs Avenged Sevenfold Have Never Played Live
Avenged Sevenfold have never performed these songs live.