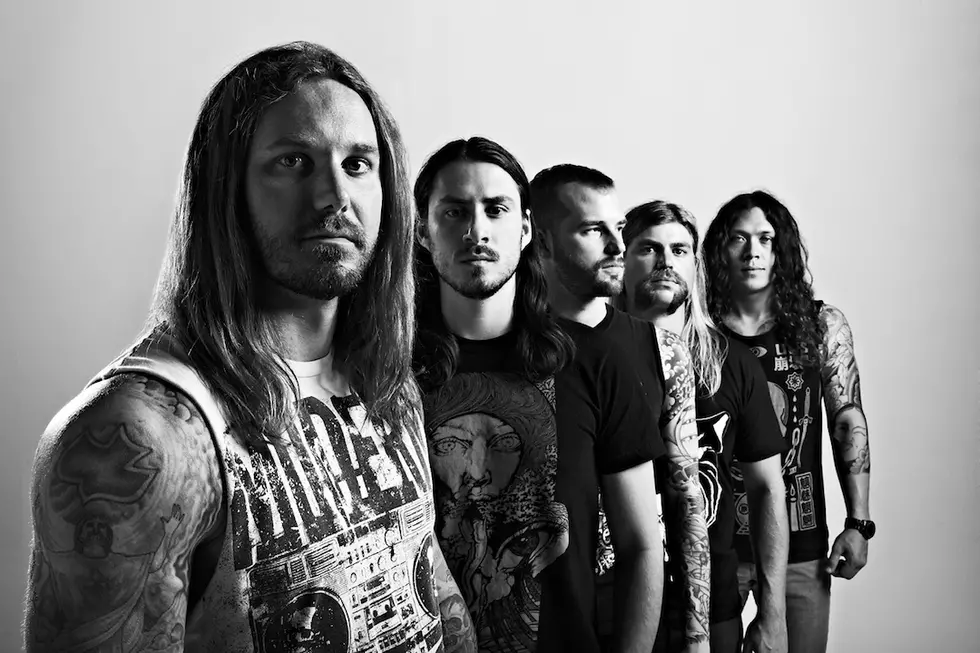 As I Lay Dying Are Back: Should You Support Them?
Ty Watkins
"Buried alive inside of my own grave, and there's no one else to blame." These are some of the lyrics to As I Lay Dying's "My Own Grave," their first song since frontman Tim Lambesis' release from prison. He was incarcerated in 2014 for attempting to hire a hitman to kill his estranged wife and was released in 2017 after serving three years of his six-year sentence.
Perhaps now more than ever, one of the most burning questions in the music industry is: Can you separate art from the artist? Over the last few years, seemingly countless stories of influential people's deplorable acts have been widely reported on. Many of those have been rock musicians. For instance, in December, we learned that Gene Simmons of KISS was being sued for sexual battery by an unnamed radio and television broadcaster. In February, actress Charlyne Yi recalled an instance of receiving sexually and racially insensitive comments from Marilyn Manson. In November, Suicide Silence frontman Eddie Hermida was accused of sexual misconduct with an underage fan.
When news of Lambesis' actions and subsequent sentencing broke, questions immediately surfaced: Should we still listen to As I Lay Dying's back catalog? What about their merchandise—should we throw it out? If you're wearing an As I Lay Dying t-shirt, does that mean that you simply love the music and don't care about what Lambesis did? Are you forgiving his actions, or even advocating them?
Here are some other questions: Can Lambesis ever be forgiven? Should he be boycotted? All of these angles entered the conversation in 2013 and 2014, and now 2018 has presented us with the official return of not only Tim Lambesis, but also the band's "classic" lineup: drummer Jordan Mancino, guitarists Phil Sgrosso and Nick Hipa, and bassist Josh Gilbert. As music fans, where should we draw our moral lines?
At the time of Lambesis' incarceration, his fellow bandmates certainly made it clear where they stood, particularly guitarist Nick Hipa, who responded to the vocalist's sole interview before he began his sentence. Conducted by Alternative Press editor Ryan Downey, the extensive interview saw Lambesis accusing his bandmates of abandoning him. "They made it very clear that we were business partners and nothing more," he said. Hipa responded vehemently: "Behind the facade of a penitent man with renewed outlook, restored faith, and apparent remorse is a fairly appalling agenda to further damage the lives and reputations of his non-supporters." He continued, "There is no contrition in his pseudo-philosophical jargon, and the verbalized assessment of his relationship with myself and former bandmates is absolute slander...The intent of his defamation is to create an air of sympathy and support under the false pretense of a forthcoming tell-all. Unfortunately, this has worked to a degree, as many strangers have put effort into projecting hatred towards those of us who chose to defend the guiltless subjects of his crimes."
Hipa concluded his statement by saying, "The prosecution of this case profiled him as a sociopathic narcissist in definite need of rehabilitation."
Those words were written just over four years ago. In the time directly following, the other members performed in a band called Wovenwar alongside Shane Blay of the metalcore band Oh, Sleeper. Although their launch and subsequent debut album seemed to have the potential for active rock success, the group's second LP fizzled. Does Hipa believe that Lambesis was, in fact, rehabilitated in prison? Has he truly forgiven him? Is the reunion something that the band members want, or just something that they need?
Another open question: Who, if anyone, is financially backing the group's return?  They were never that big; even at their peak in the mid-to-late 2000s, they were certainly a notable and influential force within the modern metal world. The largest first-week album numbers of their career came in 2007 with their LP An Ocean Between Us, which moved roughly 39,500 units. The band likely wouldn't be able to match that number in 2018 for multiple reasons, but it's likely that there still is money to be made from an As I Lay Dying reunion, if fans are willing to forgive Lambesis (or, if they only cared about the music and never felt the need to forgive him).
If you are a fan who no longer supports the band, here's a hypothetical: if they decided to donate the revenue they receive from their return to a charitable organization, would that change the way you feel about going to a show? Or if the band's reunion was blessed by Lambesis' ex-wife, Meggan—would that alter your perception of their return?
Although As I Lay Dying released their new song without context—they have yet to address the conditions around the reunion—they did announce that they will perform their first comeback show on Saturday, June 16, at Soma Sidestage in San Diego, California. At some point, they'll inevitably have to discuss the decision to reunite.
Lambesis paid his debt to society by serving his time in prison; he's now a free man. Whether or not As I Lay Dying should be supported in their comeback is a decision each individual fan will make (and judging by the comments on their Facebook page, opinions vary greatly). It will be interesting to see how fans react, and if comments by Lambesis' bandmates (or maybe even his ex-wife) sways opinions. For now, the metal community will be paying attention to what goes down on June 16 in San Diego. And, of course, what happens after that.
See As I Lay Dying in the 50 Best Metal Bands Who Released Their First Album in the 21st Century
10 Shocking Crimes in Rock + Metal History