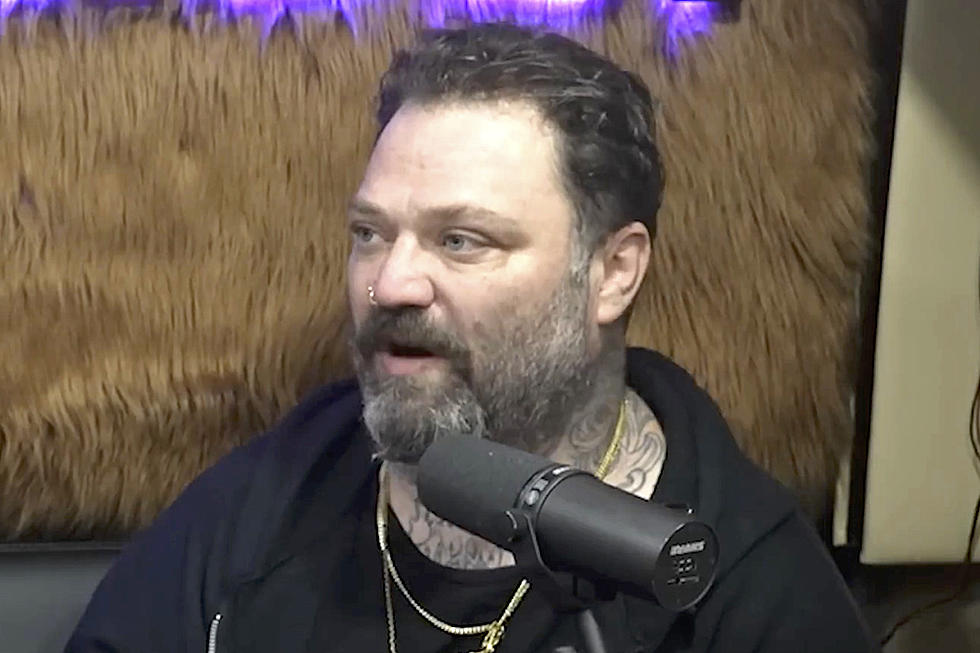 Bam Margera Arrested for Domestic Violence After Alleged Assault
YouTube: Steve-O's Wild Ride! - Podcast
Bam Margera was arrested on suspicion of domestic violence in Escondido, California, last week after a woman told police that he had kicked her, according to the celebrity tabloid TMZ.
The San Diego County Sheriff's Department said deputies were called to a residence there around 5:30AM PT on March 2 before Margera was taken into custody, as Page Six echoed. The next day, the Jackass star posted $50,000 bail and was released.
The alleged victim, who was not identified, told authorities her "husband" kicked her. But sources informed TMZ that Margera's estranged wife, Nicole "Nikki" Boyd Margera, was not involved. (Last month, it was reported Nikki filed for separation; Bam and Nikki have a 5-year-old son, Phoenix Wolf Margera.)
Read More: HIM's Ville Valo Offers Comment on Bam Margera's Recent Struggles During Interview
EW confirmed Bam was booked into Vista Detention Facility on suspicion of corporal injury on a current or former spouse, cohabitant, dating partner or fellow parent. He is due for a court appearance related to the arrest on Thursday (March 9).
The San Diego County District Attorney said its office would not file charges in the case, as they "only file charges when they believe they can prove them beyond a reasonable doubt," which TMZ reported. It's unclear what if any other charges will follow.
In the past, Bam's behavior has caused concern for his family. In January, the celebrity known for Jackass, Viva La Bam and CKY addressed his history of addiction struggles. Bam said he was "pronounced dead" after being hospitalized with COVID-19 and pneumonia last year. Before that, he was in and out of rehab, and he also entered a 12-month rehab program.
If you or someone you know is facing abuse, please contact the National Domestic Violence Hotline. You can call 800-799-SAFE (800-799-7233).
35 Important Rock + Metal Albums Turning 20 in 2023
Two decades later and these rock and metal albums released in 2003 still hold up.