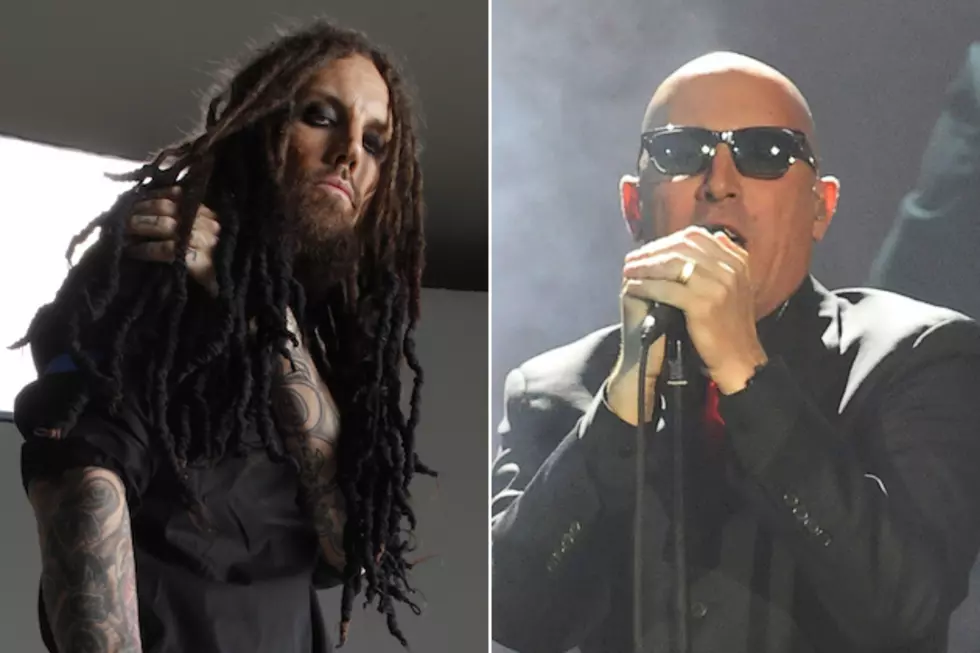 Korn's Brian 'Head' Welch Recalls Being Trolled By Maynard James Keenan Over Religious Beliefs
Photo Courtesy of XYQ Management / Charlie Gallay, Getty Images
Brian 'Head' Welch has battled a tumultuous path, coming out on the other side of drug addiction and contemplating suicide, finding and subsequently denouncing religion and enjoying his second stint playing guitar in Korn. In a recent interview, the axeman discussed being trolled by Tool's Maynard James Keenan regarding his religious conversion and a personal low point mailing meth to himself across international borders.
Guesting on the Allegedly... podcast (heard below) talking about Korn and his latest book, With My Eyes Wide Open: Miracles and Mistakes on My Way Back to Korn, Head opened up about his religious mania. Describing the regrets about his conversion, he initially stated, "Maybe going around with a white gown looking like Jesus. They were like, they really did think I got brainwashed… I dunno, it's kind of a cool look, but I dunno." This, however, wasn't the most embarrassing moment during this time in his life.
"This is the most embarrassing thing, this is the most. Maynard from Tool went to MTV and he's like 'I just want to tell you guys that I found God and he's changed my life…,' Head began. "And they wrote an article and they emailed me and they said he's like, 'Hey, did you hear about Maynard? What do you think about that?' And I was like, 'Ahh, yeah God told me this was going to happen to other musicians and it's going to be awesome and I'm happy for him' and it was just a big hoax, he was just making fun of me." Red-faced, he admitted, "That's when I backed out of the media. It wasn't like horrid, it was just like, ahhh, punked."
Head's battle with drug addiction has been well-documented and the guitarist spoke about his rock bottom, explaining, "In Germany, 2004, in the winter and I was watching a package come from California into New York, into the U.K. and then somewhere else and then it landed in Germany. And it had my three 8-balls of meth in it. And I was watching it through FedEx mail online. So that was the gutter."
Not a proud moment, Head stated, "I could get arrested for stuff like that. You don't send drugs over… I was just like I've got my daughter at home – I'm risking everything, everything, in my life. That was the period when I was suicidal. I just hated myself. Guilt, shame and all that."
Korn have been working hard on a new record, promising it will be the "most intense music in a long time." Head gave an update, adding, "We're shooting for a late summer release, so in the summer sometime with a new song, and I think people are really gonna love it."
Brian 'Head'Welch on Allegedly...
See Where Korn's Albums Landed on the Top 90 Hard Rock + Metal Albums of the 1990s