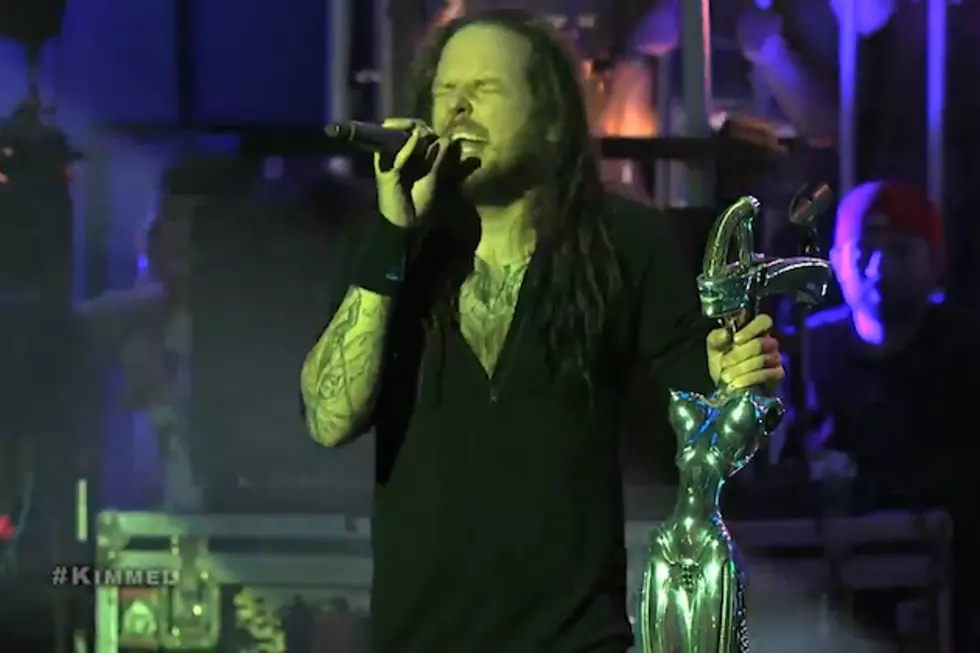 Korn Rock 'Never Never' + 'Blind' on 'Jimmy Kimmel'
ABC
Korn performed on 'Jimmy Kimmel Live!' last night (Oct. 7), cranking out the new single 'Never Never' along with a non-televised performance of their classic track 'Blind.'
Korn's 11th studio album, 'The Paradigm Shift,' is out today (Oct. 8). Fans been waiting for Korn's next move since the 2011 dubstep-infused 'The Path of Totality,' and 'The Paradigm Shift' is a major milestone in the band's career, as it marks the return of founding guitarist Brian 'Head' Welch.
Jimmy Kimmel's outdoor crowd gave Korn a warm reception as the nu-metal pioneers started off with 'Never Never.' Having brought back the infamous crowd cage setup, fans behind Korn's stage setup became part of the broadcast as they shook the prison-like bars. The 'Kimmel' audience even opened up a circle pit once Korn dove into 'Blind.'
In other Korn news, a fresh piece of the band's 'Reconciliation' documentary has been released. We exclusively premiered the doc's official trailer, but Korn have posted a new 10-minute clip focused on Brian 'Head' Welch's first full show back with the group, which was held in Belle Vernon, Pa. on May 15, 2013. Along with footage from the show, Korn feed a bunch of animals at a zoo, visit childhood memories of drummer Ray Luzier and much more.
Check out Korn's 'Kimmel' performance of 'Never Never' above, along with the performance of 'Blind' and the new piece of their 'Reconciliation' documentary below.
Korn, 'Blind' (Live on Jimmy Kimmel)
Korn - 2013 World Tour Opening Night