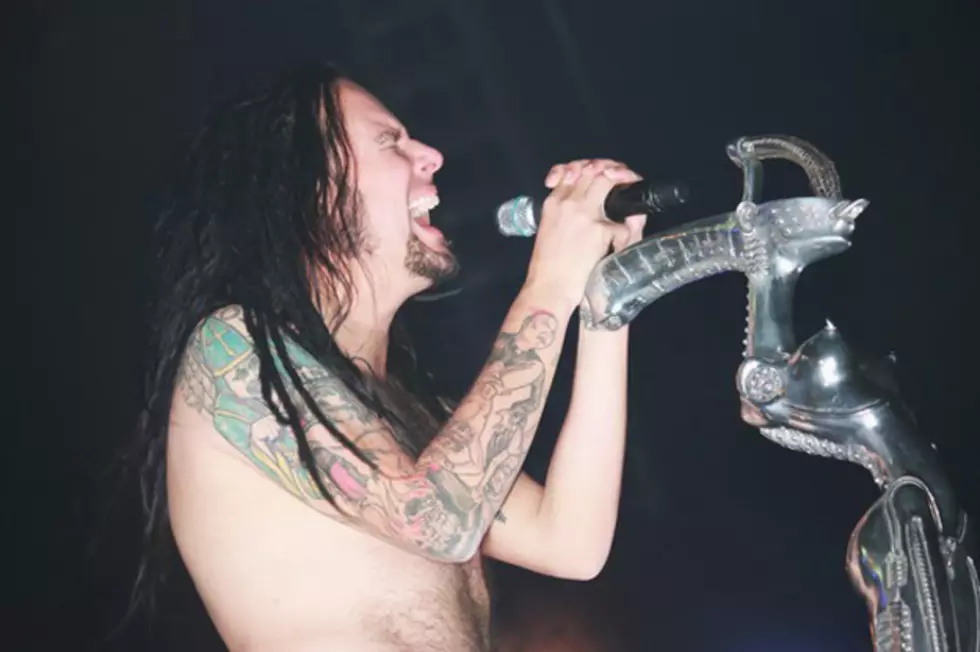 Korn Unveil Dates for Spring 2012 U.S. Tour
Korn have just announced that they are adding yet another leg of dates to their 'Path of Totality' tour. After wrapping up a string of U.S. gigs over the weekend, the band will hit the States once again to play a handful of new shows in the spring.
Korn's upcoming mix of festival and headlining shows will be Korn's third leg of the tour. The band has made its way through much of North America since late last year, with a number of dubstep artists serving as support. Check out our review of their New York City show here.
We recently spoke to Korn guitarist Munky about the tour and how their fans have reacted. "I think at the end they understood what we were trying to do, which is to open people up to a new style of music and show how talented these guys are," Munky explained. "A lot of [the support acts] don't play instruments, but what they do with their laptops is very much an instrument. The scientific approach they have towards to designing sounds and the way they design the low-end — they taught us a lot in the studio. In our future recordings we're always going to use some of their techniques."
Check out Korn's newly announced spring U.S. tour dates below:
Korn 'Path of Totality' Tour Dates
4/20 - Lonestar Amphitheater - Lubbock, Texas
4/21 - Cynthia Woods Mitchell Pavilion - Spring, Texas
4/22 - Palladium Ballroom - Dallas, Texas
4/24 - Pharr Entertainment Center - Pharr, Texas
4/26 - Hemisphere Park - San Antonio, Texas
4/27 - Concrete Street Amphitheater - Corpus Christi, Texas
4/29 - Metropolitan Park - Jacksonville, Fla.
5/05 - Fairgrounds - Charlotte, N.C.