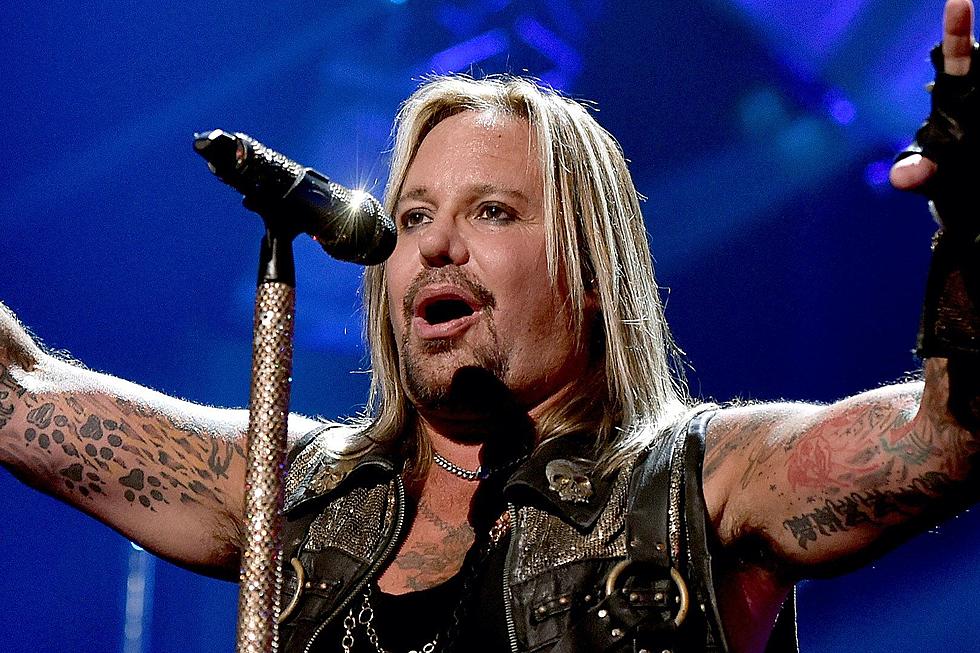 Vince Neil Discusses New Motley Crue Recordings, Extending Crue's Stadium Tour
Kevin Winter, Getty Images
Motley Crue lead singer Vince Neil spoke to The Music Universe Podcast on the show's July 1 episode about the new Motley Crue material that the classic glam rock band recently recorded with the veteran rock and metal producer Bob Rock.
Amid the interview, Neil also addressed the circumstances surrounding Motley Crue's ongoing "Stadium Tour," which he said will extend past this year, as Blabbermouth reported.
Are you ready to rock out with Motley Crue into 2024?
Watch the video near the bottom of this page.
"It's neat," Neil says of the material the band newly recorded with Rock, noting that there are "three brand new Motley Crue songs."
READ MORE: Motley Crue's Nikki Sixx Marks 22 Years of Sobriety in Celebratory Post
The Motley Crue vocalist continues, "We went in the studio not too long ago — about six months ago — and recorded three new songs. And one of them is called 'Dogs Of War.' And we're doing a show tomorrow night (June 30) (Editor's Note: See the setlist and footage here) at a club in London [under the name] Dogs of War. And I guess word got out because it sold out in less than a minute."
Neil explains that after Motley Crue had written the new songs, "We had Bob Rock, our producer, come in and take a listen to them, too. We got some studio time and went in and recorded."
However, Neil "didn't record with the band," the singer adds, "because I'm in Nashville, and they're in LA. They recorded the tracks in Nashville, and then I did a Zoom call with the producer for three days. And I did all the songs. And they turned really out well. One of them is the Beastie Boys' song 'Fight For Your Right'… That turned out really cool."
READ MORE: Mick Mars Wants His Final Resting Place to Be in the Bermuda Triangle
As for the specifics of the songs' eventual release, the Motley Crue vocalist says, "I don't know if we're going to do a whole album or not. We'll see how these songs go first."
Neil added of Motley Crue's Stadium Tour, "We're going to finish [the current dates] up. We have eight shows in the U.S. after [our current European tour with Def Leppard]. Then we go to Australia and Japan. And then we do — I think we're [returning to] the studio for a couple more songs. And then we will announce a new stadium tour for next summer. And we're not sure who's going be on it, but there'll be another tour."
See Motley Crue's currently scheduled Stadium Tour show dates under the clip from The Music Universe Podcast. Get Loudwire's newsletter and Loudwire's app.
Vince Neil on The Music Universe Podcast - July 1, 2023
Motley Crue 2023 Tour Dates
June 27 – Thun, Switzerland @ Stockhorn Arena
July 1 – London, England @ Wembley Stadium
July 2 – Lytham, England @ Lytham Festival
July 4 – Dublin, Ireland @ Marlay Park
July 6 – Glasgow, Scotland @ Glasgow Green
Aug. 5 – Syracuse, N.Y. @JMA Wireless Dome
Aug. 8 – Columbus, Ohio @ Ohio Stad.
Aug. 11 – Fargo, N.D. @ Fargo Dome
Aug. 13 – Omaha, Neb. @ Charles Schwab Field
Aug. 16 – Tulsa, Okla. @ Skelly Field
Aug. 18 – El Paso, Texas @ Sun Bowl Stad.
Nov. 3 – Kanagawa, Japan @ Yokohama Arena
Nov. 4 – Kanagawa, Japan @ Yokohama Arena
Nov. 8 – Brisbane, Australia @ Suncorp Stad.
Nov. 11 – Sydney, Australia @ Olympic Park
Nov. 14 – Melbourne, Australia @ Docklands Stad.
Motley Crue: A Timeline of Their Storied Career
A photo timeline of Motley Crue's career.