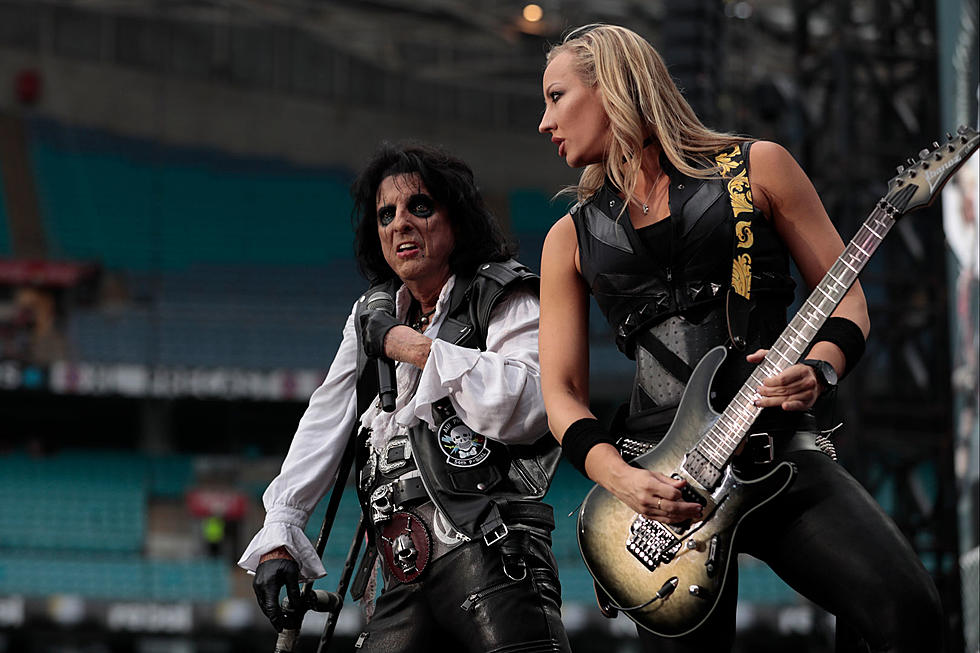 Nita Strauss Announces Return to Alice Cooper's Band, Will Play All 2023 Shows
Cole Bennetts, Getty Images
Following a stint with Demi Lovato in 2022, guitarist Nita Strauss has returned to Alice Cooper's band, which will be hitting the road in late April for a series of 2023 North American tours.
"From the studio to the stage, it's always an immense honor to make music with Alice Cooper! I'm very excited to be rejoining the band on the road for the 2023 dates, and so I'll see you on the road in April. Let the nightmare return," Strauss said in a press release.
"She's Back! Nita asked for a leave of absence to work with someone else, something I always encourage my band members to do. I like them to challenge themselves and try new things," Cooper added. "I'm thankful to my old friend Kane Roberts for stepping up and filling in for her, but she'll be back with us for the new tour that starts up in late April. It's going to be great to have her back."
Strauss announced her departure from Cooper's band last July, and revealed shortly after that she was joining Lovato on tour in support of the singer's 2022 album Holy Fvck. The guitarist had been playing with Cooper since 2014, but he expressed his full support of her decision to change gears.
"[Alice and Sheryl Cooper] hugged me and were so happy and gave their absolute blessing," Strauss recalled during a Loudwire Nights interview. "Alice said, 'We're so proud of you. Go out, shine your light, have a great time and we'll see what happens for next year.' There was never a, 'Hey, I quit, goodbye, thanks for everything.' It was just, 'I'm gonna take a step back, try something different for a few months and we'll regroup and see what happens.'"
As a result, Roberts reunited with the shock-rocker after 34 years and played on his fall 2022 tour.
Cooper will embark on a headlining tour starting April 28 in Mt. Pleasant, Mich. The run wraps up with a May 20 performance at the Welcome to Rockville festival in Daytona Beach, Fla., and then the shock rocker is set to play a handful of dates with Motley Crue and Def Leppard in August. Later that month, he'll head out for a co-headlining tour with Rob Zombie, which will conclude in late September.
See all of the dates and get tickets here.
The 10 Biggest Rock + Metal Bands With the Most Lineup Changes
But they've all made it work.