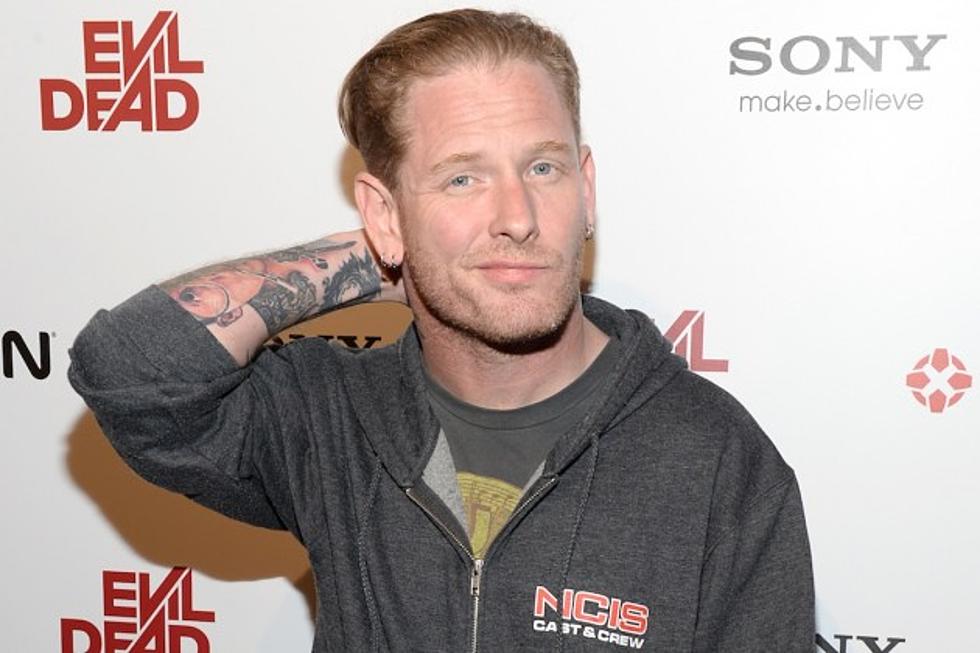 Slipknot's Corey Taylor on New Bassist's Identity Leak: 'I Was So Upset'
Michael Kovac, Getty Images
The secret is out and Corey Taylor isn't happy about it. Slipknot were planning on keeping their new bassist's identity a mystery for an undisclosed period of time, and the band was succeeding until the video for 'The Devil in I' was released. Reacting to some top notch detective work, Taylor claims that he "was so upset" once the bassist was identified.
Even the most brilliant criminal masterminds have been caught due to one tiny mistake. In Slipknot's case, it's that they didn't have their new bassist wear a pair of gloves. Distinct tattoo work on the musician's left hand, which almost certainly couldn't be coincidentally shared by two people, was all MetalChapel needed to identify the bassist as Alessandro 'Vman' Venturella. Vman has worked as a guitar tech for Mastodon, Fightstar and Coheed & Cambria. He also plays guitar for Krokodil, so it's not beyond belief that Vman and Slipknot had crossed paths in the past.
"They're not official band members yet, but they are people who play with the band," Corey Taylor told female Las Vegas radio personality Corey Taylor (no relation). "Time will tell whether or not they're, like, full members. "With this band, you earn everything. You're not just given that shot; you have to earn it. And so far, they're doing really well. And we're really enjoying jamming with them."
"We're keeping it kind of on the DL, but not really, 'cause somebody already pointed out the tattoos," the Slipknot vocalist continued. "I was, like, 'Why didn't we make him wear gloves?' I was so upset. I was, like, we thought of all this stuff. We put the hood on him and then the mask, and it was, like, 'It's really hot, guys,' And then there is his tattoos for everybody [to see]. I was, like, 'Well, we missed the mark on that one.'"
Corey Taylor Discusses His Paranormal Experiences:
Watch 20 Epic Sid Wilson Stage Dives