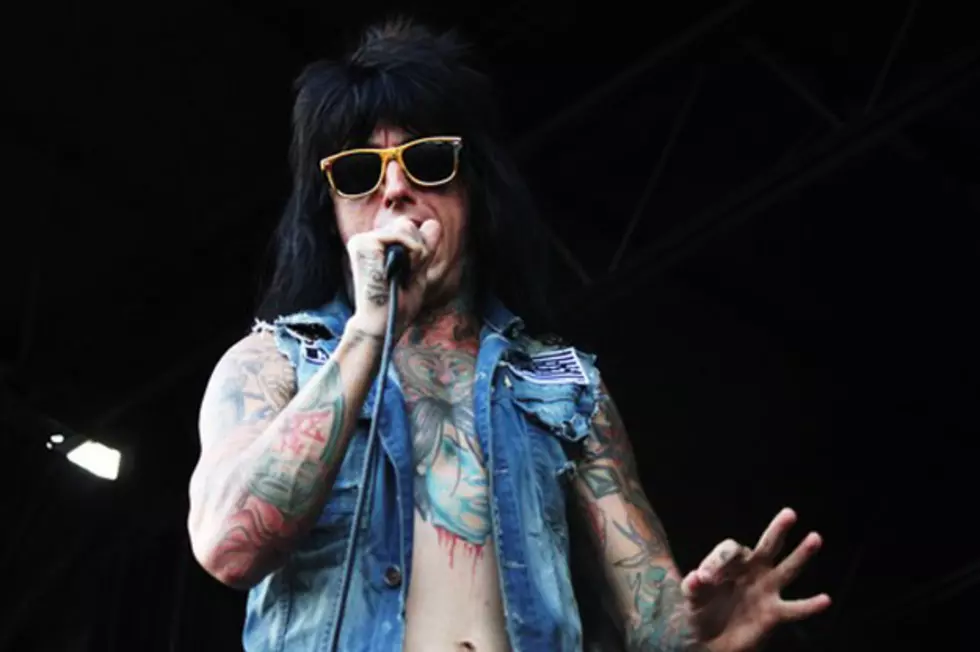 Falling in Reverse's Ronnie Radke Ejects I See Stars Fans From Detroit Show
Liz Ramanand, Loudwire
Falling in Reverse may be the headliners of their 'The Thug in Me Is You' tour, but not every person in attendance is necessarily there for them, as the band found out Friday night in Detroit. Shortly after news of I See Stars' ousting from the trek by Falling in Reverse's singer Ronnie Radke went public, the singer saw a bit of a backlash from the audience.
In fan-shot video from the show (seen below), there's a break in the action while Falling in Reverse is on stage, during which time several audience members started chanting "I See Stars, I See Stars" repeatedly.
Radke, who had his back turned to the audience when the chant started, asked for the crowd lights to be brought up once the cat calls became more audible. He pointed in the general direction of the chants and stated, "Can you kick the five people who are saying 'I See Stars' out of here? Right here, please!"
Radke's request was met by audible cheering by the crowd. As security moved toward the vicinity of the people who chanted but had since become quiet, Radke pointed again, and added, "The people who are too afraid to say anything … right there. I see you, right there. Kick these motherf---ers out. I don't care where they're from, I don't give a f---. You better show some f---ing respect to me, motherf---er."
After the show, a number of people who were tossed from the venue expressed their dissatisfaction in a rather profane manner in interviews after their ejection.
The singer ousted I See Stars from the tour on Friday, revealing that he initially attempted to get them off the bill after their drug arrest this summer, as he was working hard to maintain his sobriety and didn't want that element around. He added that he was persuaded by the group's management that they would be responsible and deserved a second chance, but they failed to live up to that promise.
I See Stars issued their own statement saying their ousting had nothing to do with drugs or being late, and that they had documented proof to that effect. They revealed that Sumerian Records would be issuing an official statement revealing the truth of their removal shortly.
Watch Falling in Reverse's Ronnie Radke Ejecting I See Stars Fans
Ejected Fans Fire Back at Ronnie Radke