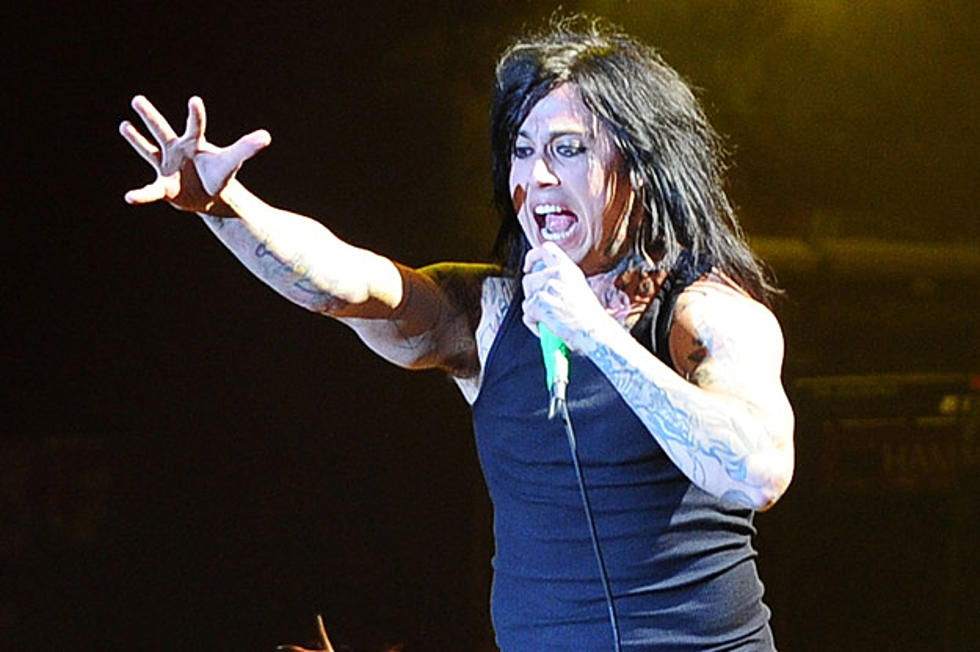 Falling in Reverse's Ronnie Radke Reportedly Arrested for Throwing Mic Stands Into Crowd
Jason Merritt, Getty Images
Falling in Reverse frontman Ronnie Radke has apparently run into trouble again. The singer was reportedly arrested after the FestEVIL performance in New Jersey for throwing four mic stands into the audience and injuring a pair of audience members.
The Asbury Park Press reports that two people were actually struck in the head by the stands during the Sunday (Sept. 30) performance at the Six Flags Great Adventure show. One of the victims, a 16-year-old girl, suffered a two- to three-inch cut on top of her head and bruising on her forehead. The other victim, a 24-year-old man, was being treated at the scene for his injuries.
Kristin Siebeneicher, spokeswoman for the theme park, said afterward, "This was the first metal show that we've ever had and will be the last. We have no plans to host another metal show … This performer was completely reckless. He had complete disregard for the safety of his fans. His actions were totally unacceptable. It's not the type of entertainment that we want to be producing."
The singer reportedly posted bail and was released after the arrest.
Radke was arrested back in August on an outstanding warrant for domestic assault. That followed a prison stint relating to an altercation where an 18-year-old man died in a fatal shooting. Though Radke did not shoot the man in question, he was cited on battery charges and given probation. The probation was later revoked when he failed to report for parole and ended with him serving a two-year prison sentence.
Falling in Reverse are expected to resume touring with the start of "The Thug in Me Is You" tour Oct. 11 in Portland, Ore.
Watch Falling in Reverse's Ronnie Radke Throwing Mic Stands Into the Crowd