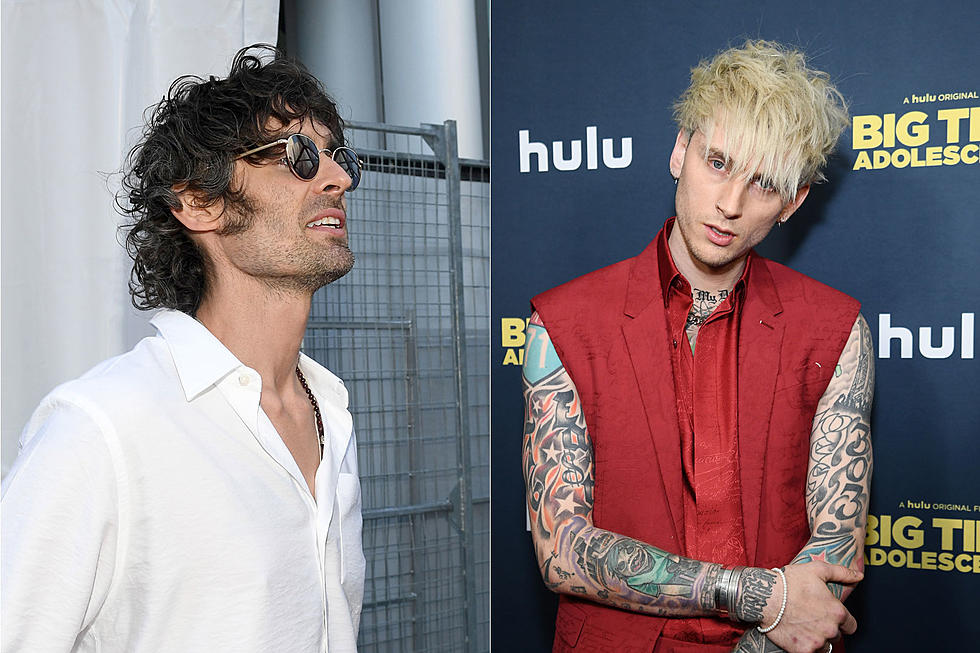 Tyson Ritter Used Machine Gun Kelly's 'Ballistic' Confrontation Over Megan Fox for Film Role
Sonia Recchia / Dimitrios Kambouris, Getty Images
Though All-American Rejects singer Tyson Ritter is most known for his music, he's also landed several acting gigs since his rise to fame, and Ritter recently relayed how a nasty on-set dustups with the beau of a co-star actually helped him with a separate film role. That incident came when he offered an acting suggestion to Megan Fox, only to be confronted by her fiancé Machine Gun Kelly.
Ritter was speaking with host Stryker on his Tuna on Toast With Stryker podcast (heard below), when he was asked about his film Prisoner's Daughter. It was then that Ritter relayed how his on-set confrontation then helped him get into his role of another film he was shooting.
The singer had been on the set of a movie titled Johnny & Clyde, where he was cast opposite Fox. He explained that one key plot point had Fox's character teasing about putting his finger in her mouth, and he felt that an interesting callback would be for him to put his fingers in her mouth when her character died.
That suggestion set off Machine Gun Kelly, as Ritter recalled, "So I go over [to her trailer] and there's her man in there with her. This Colson guy, who you know as Machine Gun Kelly. I call him Pistol Pete. So I go over there and I was like, 'Hey, Megan. I wanted to talk to you about this moment where, when you die, because you've been teasing putting my fingers in your mouth, that when you're dead, I put my fingers in your mouth. And it's like this sort of resolution to my character, getting his revenge."
At that point, MGK reportedly interjected. "He just went ballistic. It kinda went maniac mode," Ritter recalled, adding that he let MGK go wild without returning any of the fury. "I think the whole experience for me was, 'What the actual fuck is happening?' He had this baby's arm of a joint dangling out of his mouth. And he was fully unhinged."
The incident though did actually serve to help Ritter in the long run. He was shooting Prisoner's Daughter at the same time with Kate Beckinsale and Brian Cox, and in that film, Ritter was a more violent and hostile character, so he used the recent fight as fuel for getting into character. Up to that point he'd used some of his own relationship with his father to spur his character's reaction, but the MGK confrontation gave him a fresh perspective.
"I was like, this is what I've been looking for with my character on Prisoner's Daughter," Ritter remembered thinking while MGK was yelling at him. "Because the next day I had to shoot this scene in Vegas where this character goes in and confronts Kate Beckinsale, who's his ex-wife, and he goes from zero to apeshit. And I didn't, I was really struggling [with] how to flip that switch."
"I remember when Pistol Pete just started going ape on me, I was like, this is really confrontational, but also thank you, dude," Ritter concluded. "A lot of my role, in that one moment especially, it's not only my dad being his drunkest, wildest self, but there's a little bit of Pistol Pete in my role for 'Prisoner's Daughter.'"
Prisoner's Daughter is expected to be released on June 30 in the U.S., while Johnny & Clyde was released earlier this month.
READ MORE: The 12 Best Emo Power Ballads
Meanwhile, Ritter will be back in the music world next month, as All-American Rejects kick off their first extended touring since 2017 with a June 16 appearance at Kansas City's Phase Fest before launching into a bigger run in August with New Found Glory, Motion City Soundtrack, The Starting Line and The Get Up Kids. Read more about that here.
All-American Rejects' Tyson Ritter Guests on the Tuna on Toast With Stryker Podcast
32 Rockers Who've Appeared in TV Shows